---
JD Sports
WE'RE BACK
JD Community,
We want to start by saying thank you. By staying home, together, we have made a difference.
In line with government guidance we have reopened selected stores in England, Scotland & Northern Ireland and we can't wait to see you all again. As we and the world look to see what the new 'normal' looks like, we want to stress that the welfare of our employees and customers is always our main priority.
We want to ensure our stores and the rest of the UK, remain a safe place, and so we ask that you continue to follow all social distancing guidance given by the government.
With love, stay strong, team JD.
What to expect instore…
We want to make sure our stores and the rest of the UK remain a safe place, so we've stepped up our efforts to give you a safe shopping experience.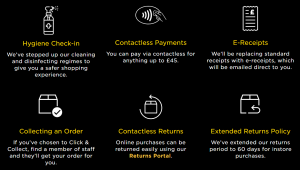 ---
JD Sports has long been established as the leading UK retailer of fashionable and own-brand sportswear. The first John David Sports was open in Bury, way back in 1981. By 1983, the business had expanded into Manchester Arndale – and the rest is history. These days, there are more than 400 stores scattered across the UK. Expect to find the latest designs and stylish exclusives from the likes of Nike, Adidas, Puma and Reebok, among others.