Fashion — Outfit inspo with Superdry: How to wear a cardigan
Say the word cardigan and you probably think frumpy. But cardigans are the knitwear you need, to tap into this season's trends – and stay snug once the season changes.
Here's how to style a cardigan from Superdry for a range of autumn 2018 trends – whatever you have planned in the diary this autumn.
Types of cardigan
Yeah…there's more than one.
Short sleeved – Preppy and pretty, a short sleeved cardigan gives us all the Clueless vibes. Pair with a mini skirt and a blouse.
Long length cardigan – The ultimate casual cardi, this style is ideal for wearing over your fave jeans and a t-shirt.
Larger than life collar – An oversized collar does all the talking on this style. Our Western Tassel Cardigan is the perfect example.
Cable knit – The ultimate smart cardigan knit, perfect over a slip dress and with midi heels.
Oversized – Ideal if you prefer a more casual vibe or featuring grungier themes in your look, watch out for chunky knits and larger than life sleeves.
Waterfall – These drape like styles are great for casual days over a plain t-shirt and jeans.
Button up – This style fits close to the body and works great with high waisted trousers or worn on its own as a top.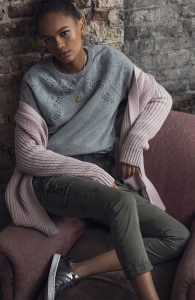 How to wear cardigans – inspired by the 90s
Cardigans were pretty well loved in the 90s. They were the perfect addition to a skirt and vest top combo and came in every colour of the rainbow. Adopt this throwback trend this autumn, pairing your cardigan with a mini skirt and cami top tucked into the waistband.
Look for a button up style in a slightly cropped cut to showcase your bottom half. Finish with ankle boots when out and about.
If you're more about those grunge vibes, wear your cardigan oversized and off the shoulders over a slouchy t-shirt. Oversized jeans and chunky boots add that rebellious edge.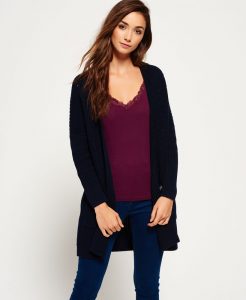 What to wear with a cardigan for the office
Office wear lends itself nicely to a throw on and go style cardigan. Having one at your desk is ideal for when the air con is cranked up or if you need to impress a client. A long cardigan keeps things smart – ideal for pairing with high waisted trousers and a short sleeved blouse. Look for a longer length cardigan that sits below the hips for a smart jacket vibe. Heeled boots are always a good call when pulling together a look for work.
When it comes to colour, stick to neutral shades to pair with brighter pieces in your wardrobe. Soft greys and classic blacks work with everything.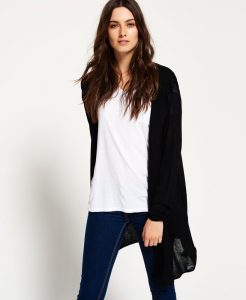 How to style a cardigan for a night out
A cardigan is the perfect alternative to your usual night out jacket. It's lightweight, looks good and can work for every type of night – whether you're a club queuer or prefer something low key with the girls. Look for a thinner material to stay cool if it gets busy at the bar and wear draped over the shoulders for a preppy look that shows off what you're wearing underneath.
A lightweight cardigan works great over leather look trousers or slim fit jeggings and a cropped top – chunky heels add height but slip on flats work too if your prefer to dance all night.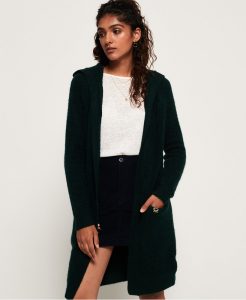 What to wear with a long cardigan
We've already noted that long cardigans are the ultimate throw on and go pieces but they can also be dressed up for smarter occasions too. Worn over a maxi with a waist cinching belt, this cardigan is ideal for those events when you need to make an impression.
For autumn, pair a long length cardigan with a mini skirt, blouse and ankle boots. A thin belt around the waist ties everything together and don't be afraid to add a beret for ultimate autumnal style.
How to wear cardigans on their own
Cardigans don't have to be outerwear – instead they work well on their own as a top. Simply grab a button up style and wear this tucked into high waisted jeans with heeled ankle boots for the perfect autumn look. A bright coloured cardigan becomes the focal point of the outfit while straight leg jeans keep things casual and comfy
If your cardigan doesn't feature buttons, simply wrap it tightly around before tucking into your jeans and perhaps wear a bralet underneath – just in case, to keep things covered.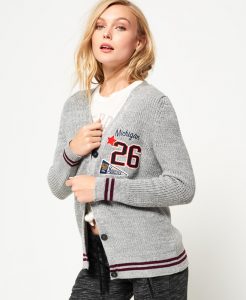 How to style a cardigan for your next Insta post
Need a new OOTD snap for your feed? Grab the slouchiest cardigan in your wardrobe and wear this off the shoulder for a super laid back but high fashion look. A long sleeved t-shirt means you won't catch a chill. Pair with skinny jeans and trainers for a low-key vibe and maybe add an oversized scarf to make up for the lack of coat.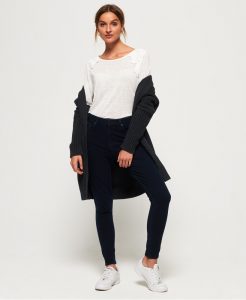 Ready to add more cardigans into your wardrobe – now that you know how to style them? Take a look at full knitwear range in store at Superdry for more inspiration.