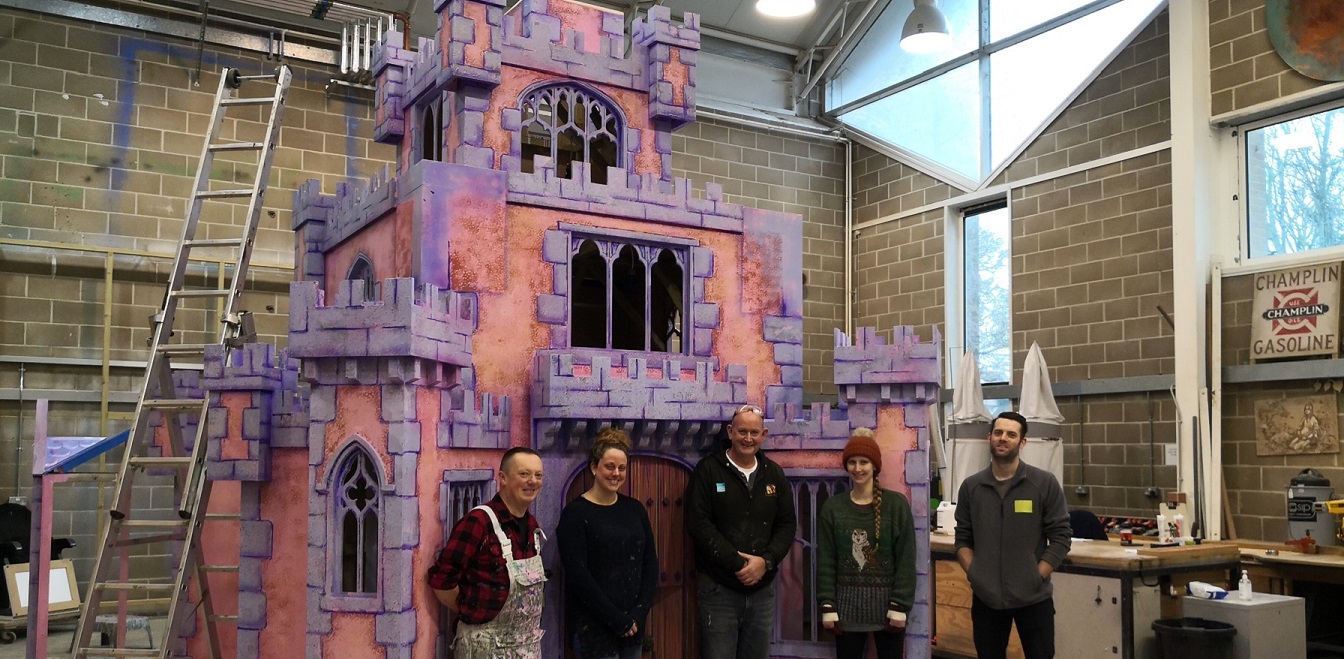 Gallery — Magical Christmas Castle
If you visit us this Christmas you are guaranteed a glittering welcome! 
Our 6m high magical castle, featuring Father Christmas and Rudolph is back!
The beautiful pink castle, featuring Colchester themed stained glass windows and 500 lights, was designed by Mercury scenic team member David Thomas and has been constructed using CNC precision technology, hand-craftsmanship and intricately painted by four members of the Mercury's freelance workforce, led by Phillip Attwater, Head of Construction.  In 2020 due to the pandemic, and the theatre's temporary closure, the team were been facing an uncertain winter with the announcement that the Mercury's 2020 pantomime would be unable to go ahead in the newly refurbished Mercury Theatre.  However, this project has kept the team very busy!
"This incredible castle needs to be seen to be believed – it really is a magical sight and a fitting winter centre-piece for those shopping and visiting Culver Square. We were delighted the Mercury was asked to play a part in this enchanting display for Colchester and to work together with the Culver Square management team for the benefit of the whole town.
We are extremely grateful that this opportunity has allowed us to offer our highly talented scenic team the opportunity to return to (socially-distanced) work. Freelancers have really suffered throughout the pandemic and our industry cannot survive without them! This has led us to set up several initiatives to try and help, including a confidential Hardship Fund, and I am thrilled that together with our multi- talented team and production facilities, we have been able to make fairy tales come true for the people of Colchester this Christmas."  
Tracey Childs, Executive Producer at the Mercury
"After the difficult year that everyone has had, we are extremely pleased that we can still bring the magic of Christmas to Culver Square this year. The enchanting castle is really going to fill the square with that festive feeling.  We are very grateful for the support of Our Colchester Business Improvement District, who have helped us fund the castle so that everyone in Colchester can enjoy the spectacular display."
David Robertson, Culver Square Centre Manager
We want to give a MASSIVE thank you to the very talented team at Mercury Theatre:
David Thomas  – Designer (Castle and windows) and scenic artist
Rhiannan Howell – Window designer and scenic artist
Phil Attwater – Project manager + head of construction
Harriet Wheatley – Workshop deputy and CAD drawings
Jim Bonner – Carpenter
James Robinson – Lighting design + installation
The fairy tale castle will be available to view until the start of January 2022.
The story behind the castle…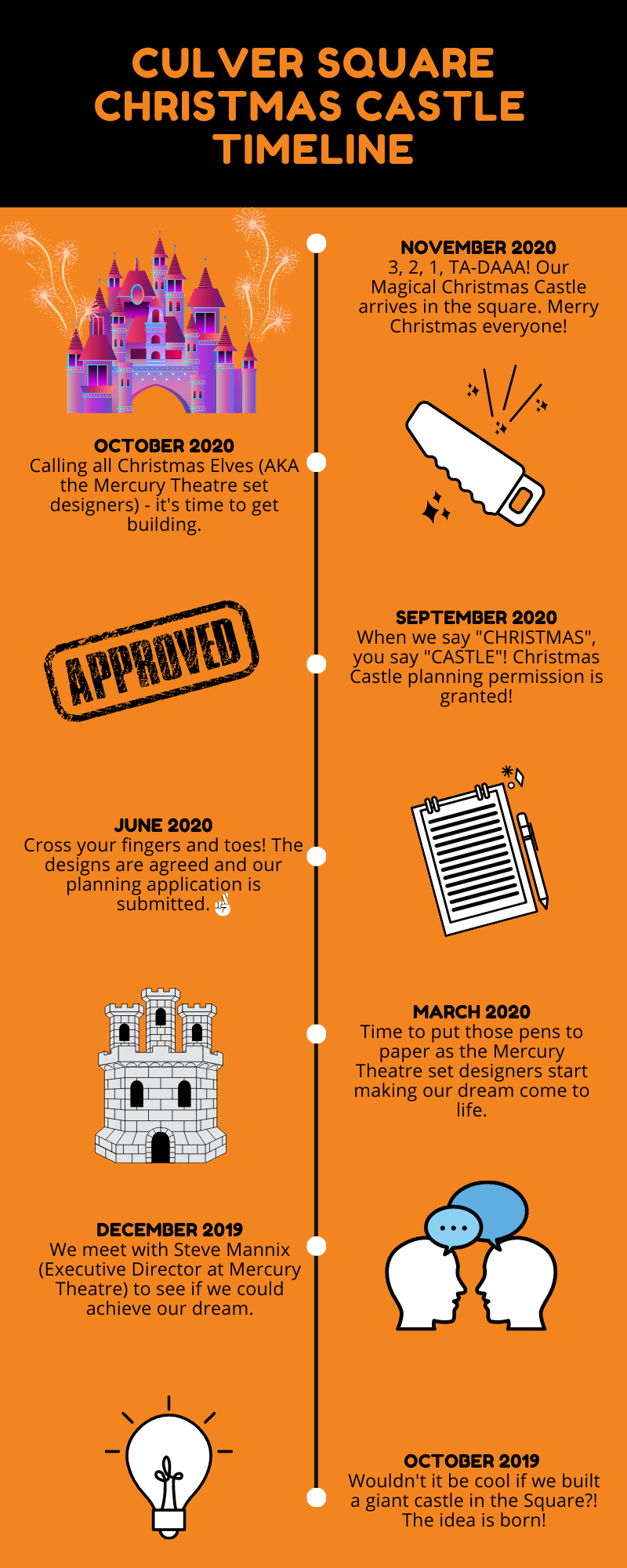 It started with a sketch…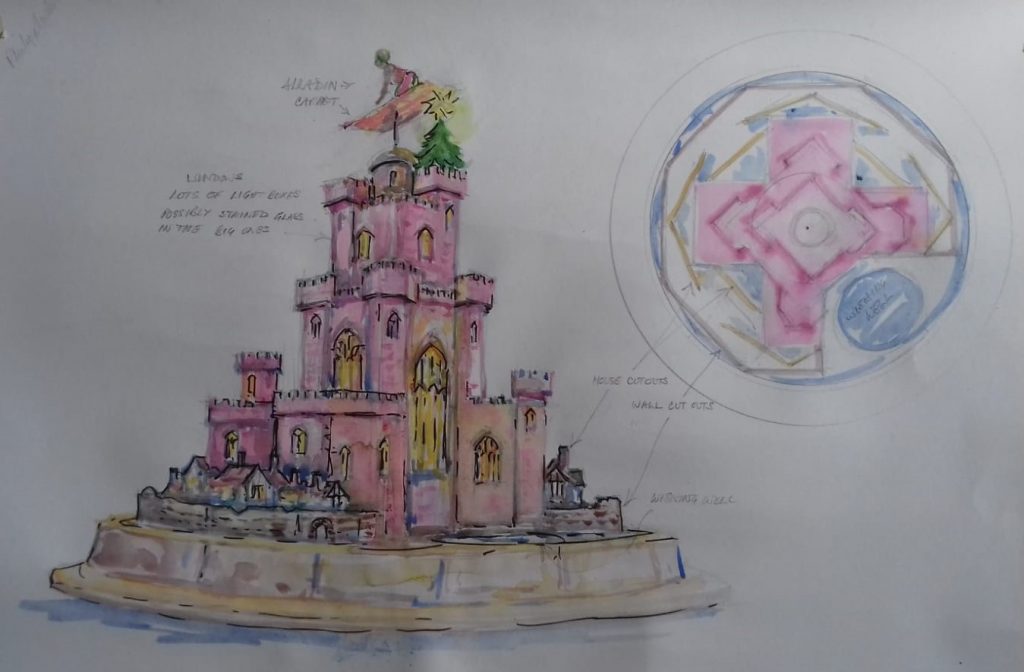 Then progressed to a 3D model…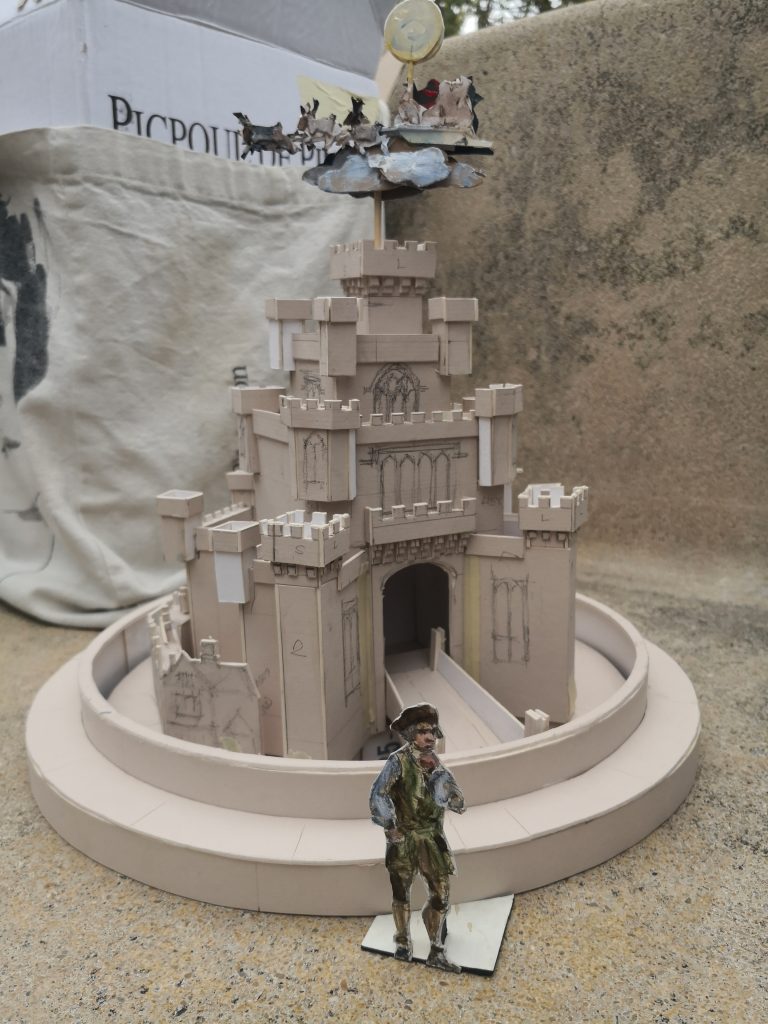 Then we chose the colour scheme…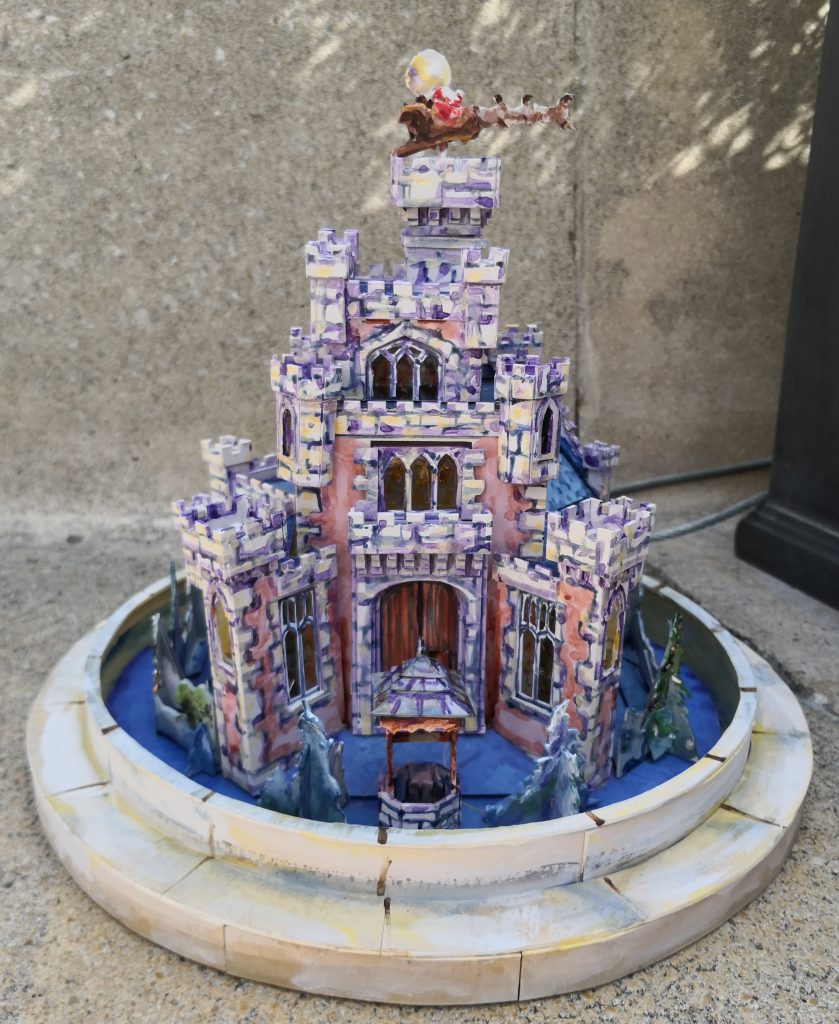 Then the real technical drawings were done…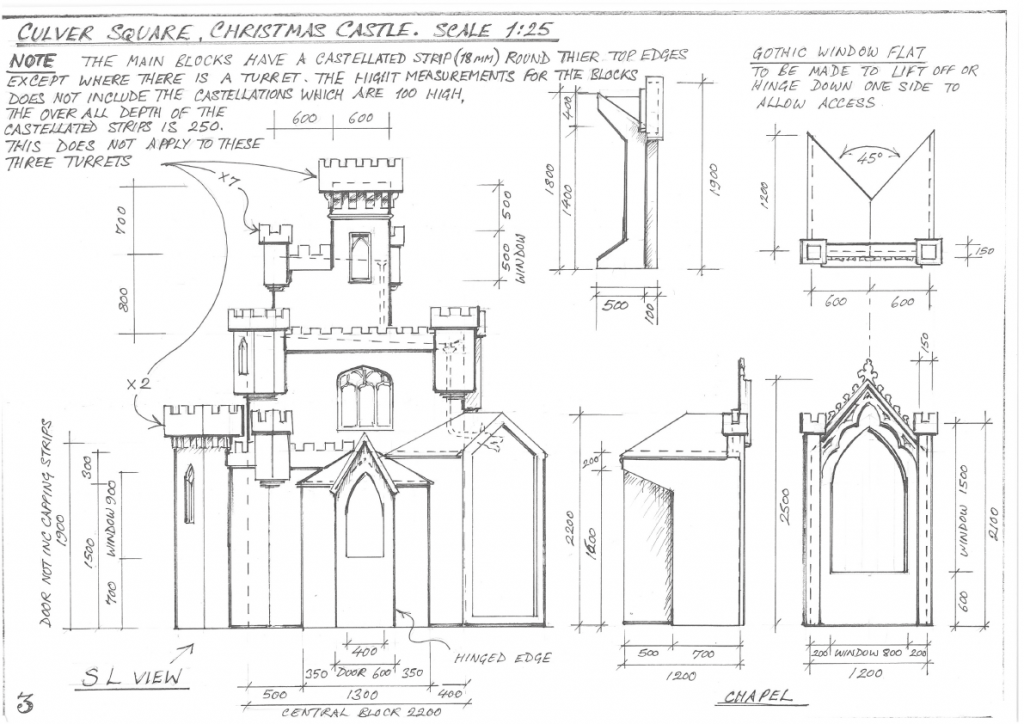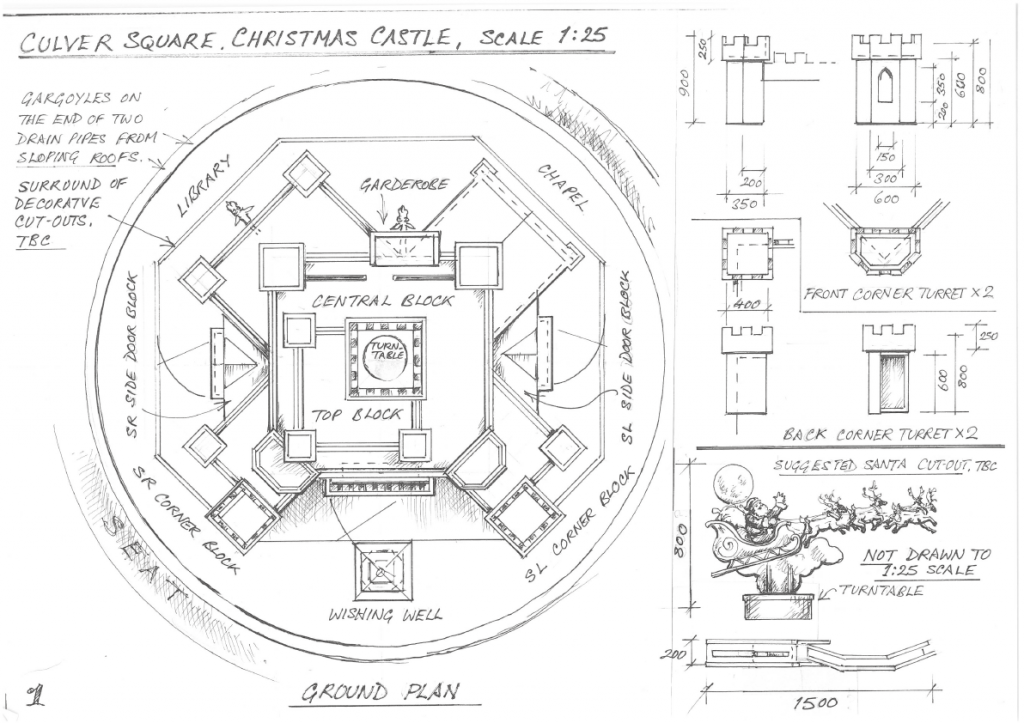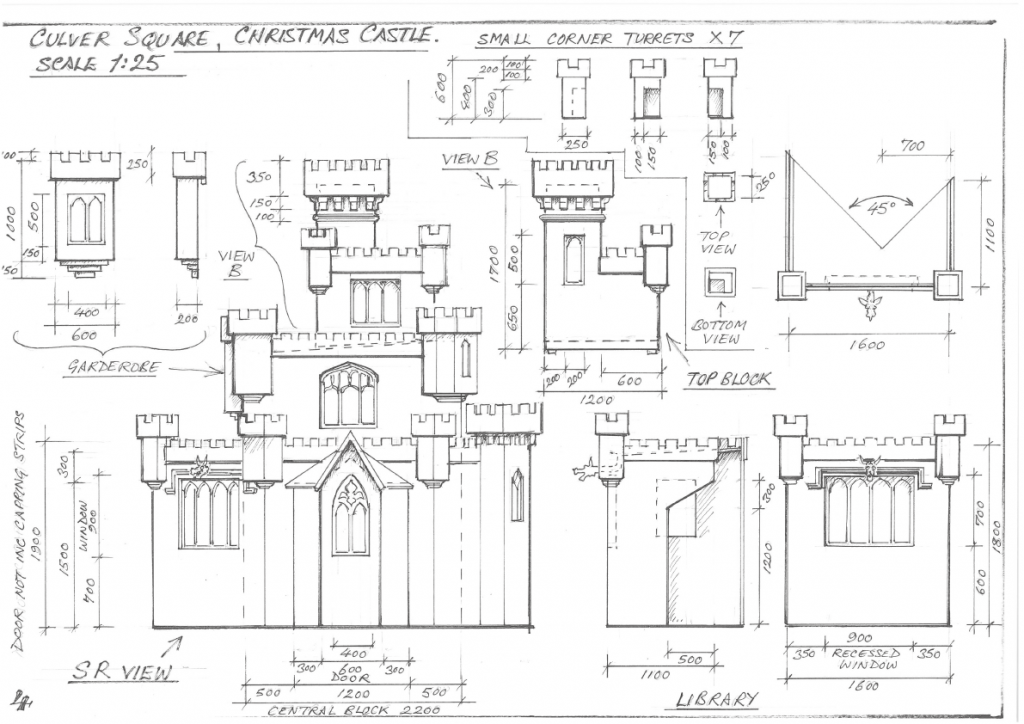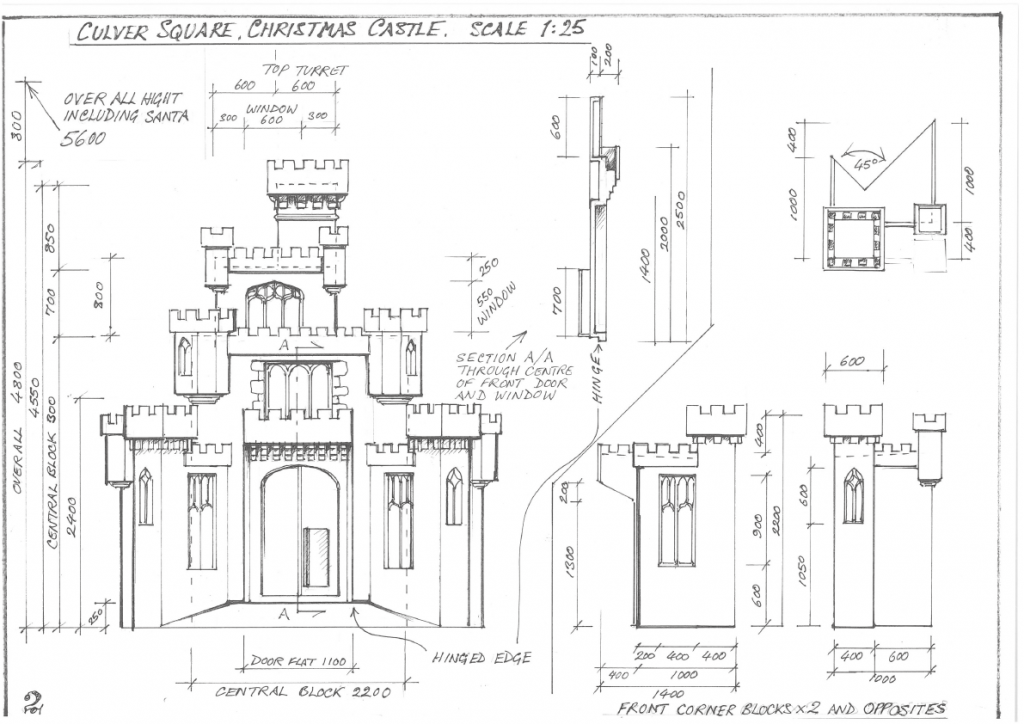 Then the talented set design team set to work building the castle.  (click on the images to enlarge them)
Once built the Castle was installed in the Square.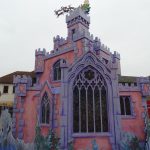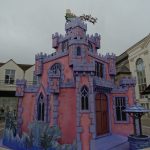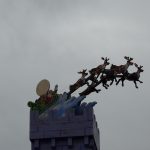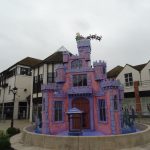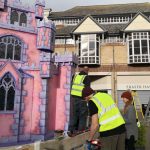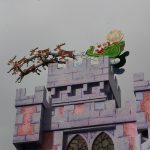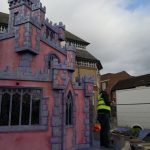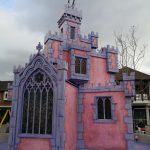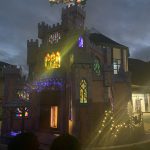 And here it is at night…..